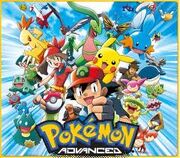 This is the opening theme of overall sixth season of Pokemon and first season of Advance generation known as Pokemon Advance.
Nanha sa ek bacha is dunya me naya
Jo kuch bhi hai paas us se na ban payega
Bahut kuch hai seekhna jeetna hai inam Aye itne door hain ab jaana hai bahut door
Dekho main to ab chal pada hoon...
Karne ek nayi shurooat
Banna main chahoon hero! (hero!) Pokemon Advanced!
Main chal pada hoon!
Banna main chahoon hero! (hero!)
Daydo ek aur chance...
Aagay barh ker dega jawab...
Mujh main kahein chupa hai ek hero...
Banna main chahoon hero!
Pokémon!!
Ad blocker interference detected!
Wikia is a free-to-use site that makes money from advertising. We have a modified experience for viewers using ad blockers

Wikia is not accessible if you've made further modifications. Remove the custom ad blocker rule(s) and the page will load as expected.