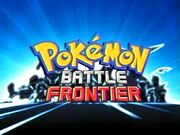 Battle Frontier is the opening theme song for the Hindi dub of the ninth season of the anime, Pokémon: Battle Frontier.
Pokémon!
Hai ye jung, haar jeet ho
Jo bhi chunno raah, jo bhi pao dost
Kiya hai vaada
Pakka irada
Sahas lao, apne mann me
Dum he to jeetoge
Khuwab dil me rahein ge
Maidaan-e-Jung me
Pokémon
Behtareen Bun jain Manzilen phir miljayen Hai ye bada plan
Hatheli me hai jaan
Pokémon!
Ad blocker interference detected!
Wikia is a free-to-use site that makes money from advertising. We have a modified experience for viewers using ad blockers

Wikia is not accessible if you've made further modifications. Remove the custom ad blocker rule(s) and the page will load as expected.