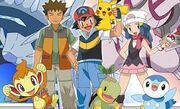 This is the tenth opening of the Pokemon and 1st opening of Pokemon Diamond and Pearl Series known as Diamond and Pearl in Hindi dub.
Pokemon!
Pokémon!
Hai baat ye challanges ki.
Ek brand new game.
ek brand new world.
Naye rivals,
ladke karein survival.
Tumhein rokay na, Diamond and Pearl Pokémon!
Ye baat hai battle ki.
Khelo ban k smart.
Move karo faster, her toofan ko par.
Ek nayi shrooat, karo samna
Tumhein ban'na hai Master...
Pokémon!
Pokémon!
Ao karen adventure,
Diamond and Pearl
We can change the world.
Pokemon
Ad blocker interference detected!
Wikia is a free-to-use site that makes money from advertising. We have a modified experience for viewers using ad blockers

Wikia is not accessible if you've made further modifications. Remove the custom ad blocker rule(s) and the page will load as expected.