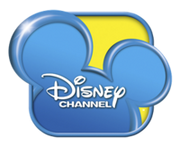 Disney Channel India is an Indian television channel specializing in television programming for children through original series and movies as well as third party programming. It aired in India in 2004 and is marketed to children and families entertainment. The channel is available on basic cable and satellite television, and is a division of Disney India.
Separation
Edit
Before becoming a channel in India, Disney was a block on Star plus called Disney Hour and Disney Mornings and later also on Sony TV and Zee TV. Disney Channel began broadcasting in India in 2004.
Available Language
Edit
Following language are available on Disney India:
English
Hindi
Tamil
Telgu  
Disney India was not  a traditional anime channel until its sister channel Hungama TV 's show Doraemon begin to air on it on 2009.From 2009,it airs Doraemon.While other anime such Hamtaro and Gazura also air.
List of Anime Aired
Edit
Following anime have been aired on Disney: