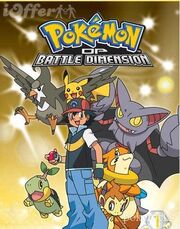 This is the overall eleventh opening of Pokemon anime and 2nd opening of Diamond and Pearl series known as Battle Dimension in Hindi dub
Naya safar, ghar se door,
Akele pun ko bhool ker tum.
Bahadur aur, takatwar dilon ki.
Manzil hay yahi!
Hum banenge heroes,
Koshish karen to badal den duniya ko!
Main hoon... jahan tum ho,
Dosti hamari, sabse khas!
Hum banenge heroes! Battle Dimension
Pokemon