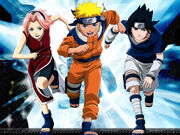 This is the opening theme of famous ninja anime namely Naruto in Hindi dub.
Hum Ninja Hain Hum
Yah hah
Jag uthay Hum
Dushman say aa kay humain ankhain milana
Asman pe jeet ka parchum lehrana
Chitan bhi ho rahon may tau cheer kay jaan
Ruk nahi jaana
Hao
Jaag uthay hum
Jaag uthay hum
Ad blocker interference detected!
Wikia is a free-to-use site that makes money from advertising. We have a modified experience for viewers using ad blockers

Wikia is not accessible if you've made further modifications. Remove the custom ad blocker rule(s) and the page will load as expected.