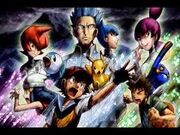 This is the Twelveth opening of Pokemon anime officially known as Pokemon Galactic Battles in Hindi Dub.
Kabhi kabhi lage mushkil,
Na jane kahan hai manzil.
Mann me ho, hosla agar.
Dil ki suno, hame kis ki hai fikar.
Karna!
(Karna!)
Jo lage sahi
Jum kai!
Karo Larai.
Hum hen!
(Hum hen!)
Jeevan kai sathi.
Agar hum sab, mil jayen sath.
To bunjay, hamari baat.
Hum jeetenge ye jung!
Galactica
Pokémon
Ad blocker interference detected!
Wikia is a free-to-use site that makes money from advertising. We have a modified experience for viewers using ad blockers

Wikia is not accessible if you've made further modifications. Remove the custom ad blocker rule(s) and the page will load as expected.